Click to go back

What fundraisers need to know about the new B-BBEE scorecard
The first thing you need to know is that I am not a B-BBEE (Broad-Based Black Economic Empowerment – or BEE) specialist. I am, however, a fundraiser – and like many of you who are part of this noble profession, I have been forced to understand how to work with the codes, in order to be more successful in securing donations from companies. We need to demonstrate to existing and prospective corporate partners that their donation not only makes good social sense, but good business sense too. Sarah Scarth reports.
The detail shared in this article is based on what I've gleaned from my own experience and what I've learnt from individuals who specialise in this field.
The B-BBEE Act No. 46 of 2013 (which is an amendment of the 2007 Act) is administered by the Department of Trade and Industry (DTI) and its overarching goal is to ". . . ensure that the economy is structured and transformed to enable the meaningful participation of the majority of its citizens . . . ". Through the Act government aims to get business South Africa to address some of the major challenges in our economy – i.e.:
a. Reducing the widening gap between the rich and poor by requiring businesses to increase the number of black people that manage, own and control businesses; b. Addressing a low-skilled labour force through skills development practices that benefit black people;c. Reducing the high unemployment rate amongst black South Africans through management control and enterprise development.
The first thing to note is that whilst the new codes were gazetted in October last year for implementation by May 2015, the alignment of the charter codes (to meet specific business sector needs), is now only expected to be completed in October 2015.
But whilst some businesses have more time to adjust and comply, more and more companies are moving over to the new codes and therefore so must we.
The biggest change is that the number of 'assessment elements' has been reduced from seven to five, along with the respective points for each. As you will see from the table below, there are also now priority elements and companies that fail to achieve a certain threshold for these priority elements, will have their score discounted.
Another change is that the annual turnover for Exempted Micro Enterprises (EME) has been increased from R5 million per annum to R10 million per annum; Qualifying Small Enterprises (QSE) are now between R5 million and > R50 million and Generic Enterprises are > R50 million. Under SED (Socio Economic
Development), whilst the point allocationremains at 5, with a requirement that 75% or higher of the SED beneficiaries must be black, there is one big change: SED spend will now need to be geared towards "income generating activities" for beneficiaries, which could have a significant impact on those organisations that provide services which in no way can be linked to beneficiaries securing future work. My advice: start looking carefully at which programmes you choose to ask for corporate funding.
In the 2007 codes, Skills Development spend (a priority element) would only count if it benefitted 'black employees'. Under the new codes this has been changed to 'black people', which creates new opportunities for those social impact organisations which deliver skills development programmes. If this applies to you, then my advice is to take the time to show how your programme work is aligned to the new codes and start building relationships with the HR executives at your existing and potential corporate funders, as they will probably be key to unlocking this funding.
Given the importance of Enterprise and Supplier Development, this is an area that should be carefully considered. If you are creating opportunities for new black enterprises, you would be well–advised to invest time and resources into exploring how your work is aligned to the amended scorecard and then present this to potential corporate funders.
Finally if you want to know if NPOs need to be verified, the answer is no. Most NPOs will automatically be level 4 status and this can be easily verified by obtaining a letter from a qualifying body (i.e. your auditor).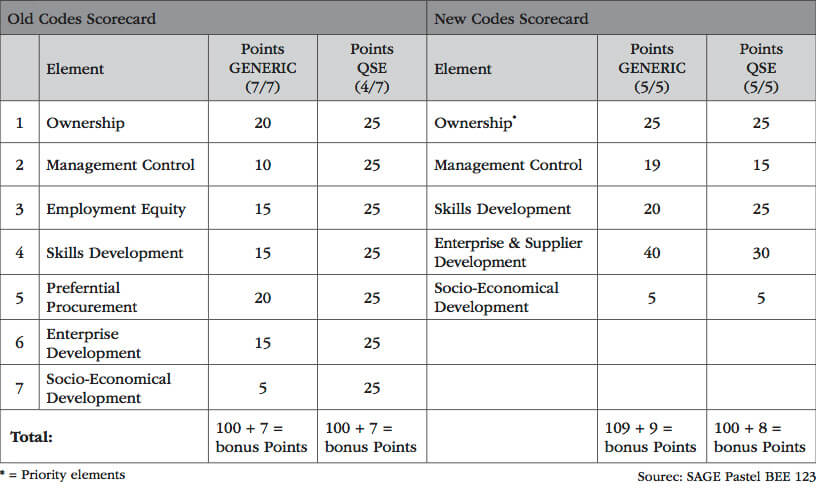 Sarah Scarth is the Southern African Representative for The Resource Alliance, which works globally to strengthen the social impact sector, by helping organisations of every size and type develop the critical human, financial and intellectual resources necessary for them to build a better world. She also works as a fundraising consultant and is based in Cape Town, South Africa. For more information contact her at sarahs@resource-alliance.org