Click to go back

A new way to present our organisational costs to donors
In October 2011 I was fortunate enough to attend my first International Fundraising Congress (IFC) in Holland. The whole conference was beyond brilliant, culminating in an amazing closing plenary by Dan Pallota. [read more]
A new way to present our organisational costs to donors
In October 2011 I was fortunate enough to attend my first International Fundraising Congress (IFC) in Holland. The whole conference was beyond brilliant, culminating in an amazing closing plenary by Dan Pallota, the inventor of multi-day charitable cycling events and now a champion for the advancement of the social impact sector.
Until then I had never heard anyone challenge societal norms towards how not-for-profit organisations 'should' be managed and in particular the expectations for them to do more with less, with 'never-fail' conditions attached.
Just like any business, a not-for-profit organisation requires critical core costs in order to deliver its programmes and achieve its mission. No one would ever question the amount of money that a company like First National Bank or Woolworths spends on advertising and marketing, or what it pays their many staff who are tasked with ensuring that they remain successful and profitable businesses. So why is this not the same for the not-for-profit sector and is there a way that we can challenge and perhaps change attitudes around how core or overhead costs are viewed?
I recently read a fascinating article in the Nonprofit Assistance Fund blog titled A graphic Re-visioning of Nonprofit Overhead by Curtis Klotz. In it he makes the following challenge: "Most non-profit leaders agree that we need a new way to communicate the true costs of our programmes and the vital importance of strong organisational infrastructure. But we have not developed a simple, consistent message when sharing our view with potential supporters and investors. We are stuck with old terms and old images."
He then shares how this typical portrayal 'needs to be retired':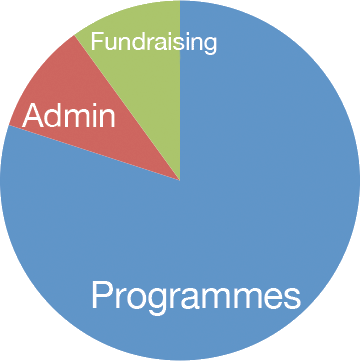 I agree with Curt when he says that when we present our organisations in this way, "we imagine the important infrastructure of our organisation as taking a slice out of the pie – as diminishing the 'real' work of our mission. Strategic financial functions, good governance, and the deployment of key funding partnerships are vital to strong organisations."
So if, like me, you agree with Curt, then we need a new image to explain our organisation. Here's what he suggests:
"Rather than thinking of our investment in key infrastructure as diminishing our programmes, it should be seen as valuable Core Mission Support."
Curt writes that "Core Mission Support functions are necessary, vital and integral. These enable the organisation to have:
Strong, strategic finance and accounting;
Progressive human resources practices;
Capable, responsive board governance;
Talented and engaged development (fundraising) staff;
Well developed technology infrastructure."
He then goes on to explain that each programme "is built around, is supported by, and shares responsibility for Core Mission Support."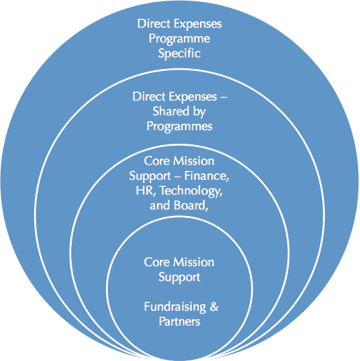 "All of the resources needed to accomplish the programmes" he explains, "are the True Programme Cost, which includes four types
of expense:
Direct Expenses: Programme-specific
Direct Expenses: Shared by programmes
Core Mission Support: Finance, HR, Board and Technology
Core Mission Support: Fundraising and Partners
What a wonderful way to explain and communicate the true needs of our organisation. Too often we hear of funders who will only support direct expenses – i.e. they don't want to pay for salaries. As Curt says "when funders support only direct expenses, they deny funding for Core Mission Support. This leaves a gap in the centre of our organisation. Not only is one programme affected, but the health of the entire organisation is at risk."
The challenge for us now is to do a better, more persuasive job of helping our funders to understand that our effectiveness is dependent on us "having a solid core at the centre of our organisation." Says Curt: "Investing in our infrastructure is savvy, prudent, and absolutely necessary."
Sarah Scarth is a consultant at Downes Murray International, and is the Resource Alliance's Southern Africa area representative. This article was published by Non Profit Quarterly https://nonprofitquarterly. org/2016/08/16/graphic-re- visioning-nonprofit-overhead/